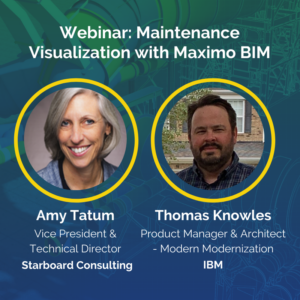 Starboard's Vice President and Technical Director, Amy Tatum, recently sat down with IBM's Product Manager and Architect, Thomas Knowles, to discuss Maximo's BIM (Building Information Management) feature set.
Through the introductory discussion of what BIM is (digital representation of physical and functional characteristics of a facility), through functional and integration details, demonstrations and use cases – this hour-long webinar was packed full of value-add information.
Amy started the discussion by noting that BIM has been around for over 50 years, with its origin as a Planning, Engineering and Design.  As it evolved into construction, facilities and maintenance – it became a natural partner to Maximo's lifecycle maintenance features set.
Thomas noted the largest value for using BIM with Maximo are time and cost savings through operational efficiencies.  Today, maintenance workers frequently spend an inordinate amount of time gathering information on the work they have to do from multiple, disparate systems.  This happens before they can even start the work – which leads to an overwhelming amount of time and potentially conflicting information.   With BIM however, imagery is brought inside of Maximo.  Your maintenance workers utilize a single system, a single system or record, for immediate visualization on the work they need to perform, along with the procedures to perform that work.
For over 5 years, BIM has been included with Maximo starting with version 7.6.0.6, and its feature set has continued to grow over that time.
View the full 60-minute discussion and demo.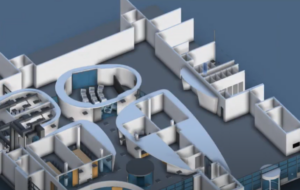 Or if you are short on time, skip over to minute 45:24 where Thomas demonstrates the viewer within Maximo's Location application.   The viewer is part of Maximo's Asset, Location and Work Order application.   Thomas then presents a few client use cases that you won't want to miss!
Want to find out more how you can save time and costs with Maximo BIM?  Contact Starboard Consulting today for more details.!