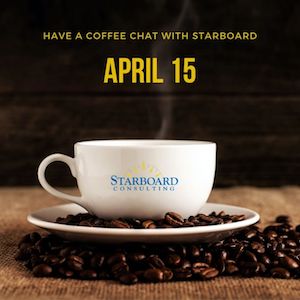 Join us online for our new 30 minute Coffee Chat series!
Take a coffee break with the Starboard team! Join us for a brief discussion of what's new and what you need to know about new Maximo Anywhere 7.6.4. We'll be briefly discussing:
New functionality
System requirements
End of Support of Maximo Anywhere 7.6.1.x
Questions and answers
Capitalizing on its tight coupling with Maximo Asset Management, Anywhere 7.6.4 introduces a new streamlined architecture, and a new functionality set focused on ease of administration, maintenance, and deployment – while ensuring optimal device performance.
What questions do you have about new Maximo Anywhere 7.6.4? There will be time for Q&A, but you are also welcome to submit your questions in advance to amy.morris@starboard-consulting.com or schedule a demo.