The Starboard D4 Process
Our proven, systematic methodology for successful Maximo implementations.
CONTACT US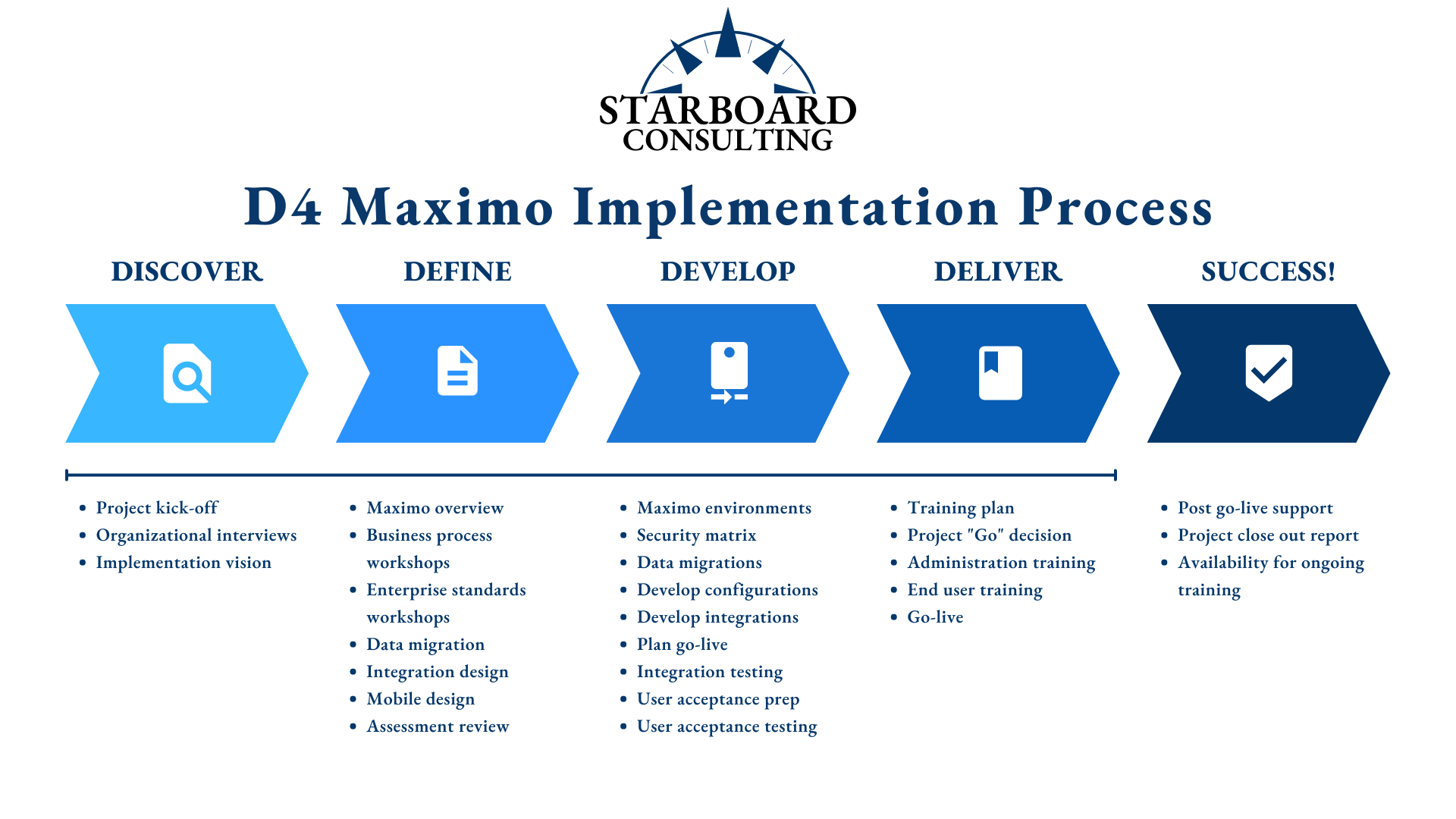 OUR PROVEN METHOD FOR SUCCESS
As a Maximo Consultant, Starboard  believes the success of any technology project requires consideration of the people as much as the technology.  We approach our projects as your partner, working together with the utility users every step of the way.  Project success is accomplished by using our proven, systematic Maximo implementation methodology, D4.   This methodology has four critical phases that tie the people and technology components together throughout the project:  Discover, Define, Develop and Deliver.
DISCOVER
Before we make recommendations, we spend time understanding your current situation.  We assess your asset management requirements and determine how those requirements relate to your goals.  Out of this stage springs definition of work processes, EAM standards, data collection processes and interface requirements, as well as identification of the core oversight and development team.
DEFINE
Once we've distilled the information, data and management processes we learned in our discover session, we overlay the opportunities Maximo offers and collaborate with you to determine application requirements and integration channels.  This includes Maximo configuration requirements, interface requirements, data structures and data sources. From there we define a plan of action.
In order to avoid disruption within your organization, we set up a staging platform to integrate programs and data into the Maximo platform.  We configure Maximo; interfacing processes, user interfaces and data loads; develop workflows and verify with your users the configuration.  We then perform end-user acceptance testing.
Once testing is complete, we prepare to launch the new Maximo Implementation, Upgrade, Configuration or Integration Projects.  We understand the complexities of software and stand committed to you throughout this process.  We prepare training materials,  system documentation, move configurations into production and strategize the start-up.  When everything is in place, we're ready to deliver the implementation and "go-live."
Ready to get started?
Our team of Maximo and Asset Management experts are ready to assist you. Our services include:
Implementations or upgrades
Application or mobile configurations
Integrations to external systems, including GIS
Training and support
Get in touch today and leverage our 16 years of exemplary Maximo services to deliver you a successful project!
Simply use the form below to email us, or feel free to give us a call at +1 (407) 622-6414.