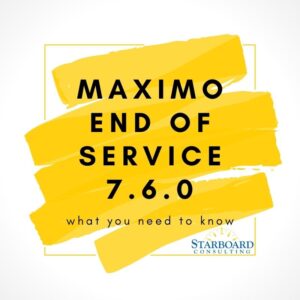 In September 2021, IBM announced End of Service for the Maximo 7.6.0.x releases. So does this mean you need to upgrade if you're on an earlier version of Maximo? Here's what you need to know.
What's Included in EOS for Maximo 7.6.0?
The announced EOS for Maximo 7.6.0 releases includes Maximo Asset Management 7.6.0.x, Scheduler 7.6.0 thru Scheduler 7.6.5 and the related Maximo 7.6.0.x Industry Solutions.
This EOS means that effective September 30, 2021, that fixes, patches and telephone support will no longer be provided for Maximo 7.6.0.x and its associated products.  The fixes and patches that would no longer be available for Maximo 7.6.0.x after September 2021 could be related to application functional issues, security fixes or fixes related to recently released software platforms.
Does EOS mean I need to upgrade Maximo?
Do you need to upgrade Maximo? No, but you will be impacted. With this EOS date rapidly approaching, the Starboard Consulting team encourages clients on Maximo 7.6.0.x (and lower versions) to start planning their upgrade path for several reasons:
IBM Support. Access to 24/7 IBM Support for Help Desk Assistance
Product Fixes. Ability to receive APAR and IFixes for product and application issues
Security. Latest security fixes
Currency.  Latest platform support from application servers, database servers, browsers and more
Feature updates. New features and functionality are continually added to the core Maximo product, Add-ons and Industry Solutions.   Recent examples in Maximo 7.6.1.2 include the new Scheduler Features, Inventory Work Center updates and some really terrific User functionality with Asset Drilldown features.
Are you prepared to upgrade to Maximo 7.6.1.2?
At Starboard, we know that upgrading your Maximo instances can be time-consuming and costly. Starboard can work with you to ensure your upgrade is done on time and to budget. The Starboard team offers:
Extensive team of senior Maximo consultants with years of implementing, upgrading, integrating, configuring and customizing Maximo
Highly trained Maximo consultants including IBM Certifications of Maximo 7.6 Functional Analysts and Technical Professionals.
IBM Gold Partner Certification achieved through successful client implementations
Do you have questions or need help planning the Maximo journey that fits your organization's unique needs? Specializing in Maximo, the experts at Starboard can help you get the most out of your Maximo investment. Contact us today to schedule a complimentary consultation.