WEBINAR: University FM Challenges During a Pandemic
Free! Hosted by IBM & Starboard Consulting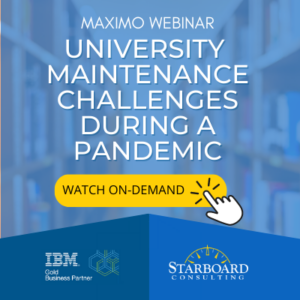 Facility and asset management for university facilities are already complex, but escalating challenges from the pandemic are severely impacting higher education facilities, including:
Exponentially increasing services for cleaning and virus testing
Complex space management and re-arrangements in all buildings to reduce contact/population density
Massive budget cuts
Severely cut state appropriation funding
Add the ever-present challenges of managing aging facilities – along with the continuous need for high-tech labs, updated student housing and increased security – and many asset and facility management programs are overwhelmed.
Hear how this dynamic panel of public and private university facility management professionals are addressing real-world challenges – and opportunities – presented in 2021.
Featured presenters and roundtable panelists include:
Shawn Harding, University of Kansas, Director of Facilities
Michael Guns, University of Delaware, Maintenance Strategy
Ian Salada, Penn State, Director, Work Control
Tim Pratt, Bates College, IT Facility Specialist
You might also be interested in our upcoming webinar:
Implementing Maximo in an Agile Environment
Feb. 11th at 2 PM ET.
For more information or if you'd like to take a deeper dive into planning your asset management programs for 2021, please contact Amy Morris at amy.morris@starboard-consulting.com or 213-986-9789.