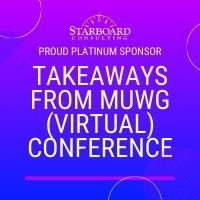 Last week the Starboard Consulting team had a great time attending the 2020 MUWG conference. First off, coordinating a virtual conference is no easy task and we want to give a huge shoutout to the
MUWG team
for their tireless time, energy and commitment in pulling off an amazing 3-day virtual confidence.
Although we missed connecting face-to-face with clients, colleagues and partners, it was great to hear so many familiar voices during the presentations and introduction sessions. It was also great to connect with many of you at the Vendor Open Chat and Happy Hour sessions!
Thank you also to Mt. Pleasant Water Works for sponsoring MUWG! We're always excited to learn more about their best-in-class Maximo implementation, and how loved hearing how Mt. Pleasant Water Works is using Maximo data to determine problem areas and gauge PM program effectiveness.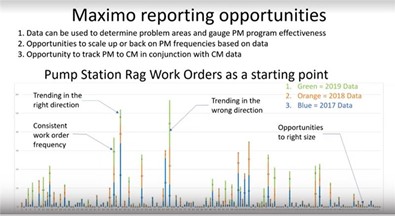 Thank you to IBM for their presentations including the Maximo Roadmap, Spatial, Inspections, and mobility sessions. The latest Maximo 7.6.1.2 and Scheduler 7.6.8 are packed full of new features that we all are very excited about! The demos were a great offering during the conference.
A few 2020 MUWG conference highlights that stood out to our team:
The Roundtable Utility Chats – as always these discussions were lively and informative!
The Member/User presentations were extremely informative, including:

TVA's (Tennessee Valley Authority) NERC CIP 013 including discussion on change management, NERC Interpretations and vendor challenges.
NYPA's Mobile Presentation and the steps they are taking to be the first End-to-End Digital Utility.
APS (Arizona Public Service) Supply Chain – excellent to hear how APS is working to optimize their supply chain processes and systems with Maximo.
NYPA's Training Presentation – George Perry discussed Maximo training challenges and how NYPA's training toolbox is helping them get the most out of their training efforts.

The 15-minute Member lightning talks were quick and captured our attention – and filled our minds with information.

Another shoutout to Penn State's Joel Meyers and Starboard's Lani Trotter on a fantastic presentation! Penn State's Maximo Journey to SIMBA was a wild ride!

The Starboard team had a great time playing trivia with all the folks who were able to attend our Happy Hour on Wednesday. George Perry from NYPA proved to be a trivia rock star!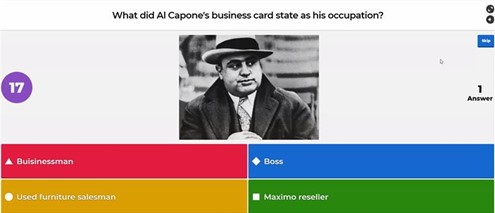 Our two biggest takeaways from the 2020 MUWG Conference
Our biggest takeaways from the 2020 MUWG Conference (and really, any virtual conference you're attending in the next few months):
When the open sessions allow, don't be shy – turn on your camera.  We've missed seeing our Maximo community. Business partners, clients and other community members all commented how much they enjoyed the opportunity to SEE one another and network.
Virtual conferences and hybrid virtual conferences will be a way of life well into 2021. While we miss the in-person networking, the silver lining is how many more people were able to attend from both far and near. The last few weeks our team has enjoyed attending Maximo User Conferences in England, Canada and regionally across the U.S.  It's a great way to stay connected and learn from Users who might not have been able to attend under "normal" circumstances.
Want to continue learning from and networking with the Maximo community? We invite you to join the combined, virtual Georgia and Florida MUG conferences on December 4, 2020 from 10 AM-12 PM ET.  Learn more.