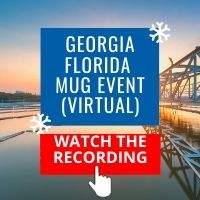 Wow!  What a great Maximo User Group meeting we enjoyed on December 4, 2020 – talking about all things Maximo Mobile!  Here's what you missed during this two-hour virtual event.
The 2020 virtual meeting had two fantastic featured presentations by Maximo Users:
Tampa Bay Water: Jennifer Lawrence-Jones, Maintenance Planning & Reliability Manager
Cobb County Water: Bart Hewitt, Application Support Analyst – MAXIMO System Admin
We also enjoyed a terrific IBM presentation by Anna O'Brien, IBM Industry Leader, on mobile hardware importance and IBM's partnership with Samsung.
Following Anna O'Brien, there was a discussion about industry trends with Starboard Consulting's Amy Tatum and Cohesive's Russ Anderton, where they discussed key topics on connectivity and pilot programs.
All the presenters then participated in an open round table discussion where the audience asked a wide range of Maximo questions – great discussions here!
And finally, in the spirit of the season, two charity donations were given to ASPCA and ALS Canada in the honor of two lucky User attendee winners. Congrats to Helen and Jennifer!
If you missed the Maximo User Group meeting – no worries! You can access the full event details, presentations and incredible discussions on a variety of Maximo Mobile topics on our website or our YouTube channel.
Please note, we are always looking for presentations for future Maximo webinars or user group meetings and we'd love to hear from you! Please drop a note if you have a topic for which you'd like to hear more — or if you're interested in presenting!
Thank you again to our amazing presenters and to all who attended (live or who watched on-demand).
From all of us at Starboard, we wish you all the best in 2021!